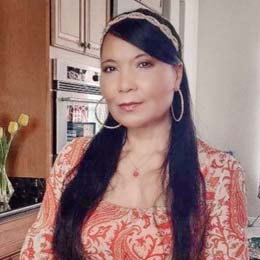 Regina Mitchell
Email: board2@nfbnevada.org
Regina Mitchell comes to the National Federation of the Blind from the Culinary and Hospitality world. She was raised in Compton, California and the oldest of four children. Her love for cooking was inspired during childhood by her memories and food experiences in the kitchen alongside some amazing home chefs, in their own rights: her mother, maternal and paternal grandmothers and her mother-in-law. Regina decided to take that passion of cooking to the next level. While living in Seattle, Washington with her husband Stan, she attended Culinary School, when she was exposed to food of different ethnicities around the globe and saw how food can have a huge impact on our lives and health. She was fortunate to receive a British Fellowship upon graduating from Seattle Culinary Academy to train under the tutelage of Master Chefs in Scotland, London, Rome, Paris and Barcelona. Upon returning to the States, Regina worked with Seattle based restaurants and cooking schools as a chef instructor. Shortly became an entrepreneur providing team building culinary experiences with Fortune 500 companies as a Corporate Executive Chef.
How did she get from Seattle, Washington to Las Vegas, Nevada?
MGM Hotel and Casino was opening a new boutique, non-gaming hotel. They were seeking culinary and hospitality professionals. Regina was hired by MGM Properties, as a Butler, providing personalized-service to elite guests, at both The SkyLOFTS at MGM Hotel and Casino and ARIA Hotel, at The City Center.
Regina's life changed drastically in 2006, when she was diagnosed with a chronic illness. In 2011, the illness caused sight loss and she was diagnosed with Bilateral Pan-uveitis. Unfortunately, she was unable to safely navigate neither the hotel's ingenuous floor plan nor guests' space with grace and "ballet of service."
Regina entered a world of loss. The loss of sight, of employment, and of independence. Life as she knew it was being stripped away and she felt forced to live in another. Vision loss came as a thief in the night, not gradually, nor with preparedness. However, she had many champions all around—her husband, daughter, parents and siblings.
What would she do in place of full time employment?
She decided to pursue full-time education at University of Nevada in Las Vegas. Living in between the sighted world as 'passing' and the blind world, 'stumbling', was confusing and as she soon learned, a dangerous and unsafe world. Having some vision, enabled her to live in denial of blindness, as a result she struggled academically her first year. At the Disability Resource Center on UNLV campus she met the first blind person who soon became a friend and mentor. Regina understood that in order to be as competitive academically as her sighted peers, her daily challenge was to learn to navigate assisted technology, devices and equipment, and to take advantage of resources offered from instructors, tutors, programs and organizations. She was encouraged, strengthened, and hopeful for a new future. She began to excel academically.
Realizing in her junior year she was nearing a financial crisis of completing her Bachelor's Degree, she looked online for scholarships for students with vision impairments. She discovered and applied for The National Federation of the Blind Scholarship Program. She met the second blind individual, Terri Rupp, President, NFB Nevada. Both waited with baited breath. The call came. Regina was one of the 30 finalists for the 2017 NFB Scholars Cohort. That would be her first National Convention and finally seeing and meeting hundreds of students just like herself. Regina was able to apply the monetary awards from the scholarship to complete her senior year. She graduated with honors and was nominated to be undergrad guest speaker at the African American Heritage Graduation Ceremony for graduating class of 2018.
Regina has embraced her blindness. This new journey has provided open doors to walk into spaces she never knew existed. She is an advocate for policies and laws providing equity to Blind Americans and has joined the efforts of teaching organizations and corporation on Sensitivity Training and blind awareness.
Currently, she is and Affiliate Board Member and is a former President of the Southern Nevada Chapter. She has been married for over 35 years to Stan Mitchell and mother to her daughter Journi Mitchell. She's a foodie and loves mystery movies. Her passions are travel, healthy eating, and an affinity for running, although she still craves a few cheetos. She's also on the hunt for the best cupcake and doesn't believe ketchup should be anywhere near breakfast foods. Oh! She has a confession: to being addicted to recipes. She doesn't have a sad story, only one of triumph and encouragement. Life is BEAUTIFUL.